WELCOME! TO OUR BEAUTIFUL ISLAND PLEASE PURUSE THE FOLLOWING PAGES AS WE ANTICIPATE YOUR VISIT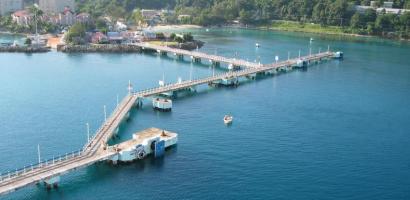 Download Exam Application Form
FOR CLASS "B" QUESTIONS(click here)
FOR REGULATIONS(click here)

PLEASE SIGN OUR
Now on IRLP (node # 7673), and ECHOLINK.
Welcome to THE JAMAICA AMATEUR RADIO ASSOCIATION refurbished Website. The site is a work in progress, but beautifully designed and is much more user friendly.
There are areas exclusively for our members, and other areas for the general viewer and radio enthusiast. There are links to other Clubs in North America, the Caribbean, and Central and South American Regions, in addition to affiliated and emergency relief organizations.
Through our web pages you can learn more; not only about club projects, but also about what the island has to offer to our visitors as a holiday hideaway. One of the first tourists to visit the island was Christopher Columbus, in 1W94. He described Jamaica as "the fairest isle mine eyes ever beheld."
We hope that your visit to our website today will leave you with the same impression that Christopher Columbus had back then. So sit back, relax, and enjoy a wonderful adventure while you browse through our colourful pages of information.
The Committee of Management is indeed grateful to Vincent Taylor for the many hours of work that he is contributing to the refurbishing of the website. To Ekovista.com who has been hosting us since 2000: many thanks! We are indeed grateful for your continued contribution.
On behalf of the Jamaica Amateur Radio fraternity we hope your visit to our website will be inspirational and educational.
Management Committee, JARA - Jamaica Amateur Radio Association